Learners identified as gifted/ talented will demonstrate skills in self-directed learning, thinking, research, and communication as evidenced by the development of innovative products and performances that reflect individuality and creativity and are advanced in relation to students of similar age, experience, or environment. High school graduates who have participated in services for gifted/talented students will have produced products and performances of professional quality as part of their program services.
All campuses in Humble ISD provide screening, identification, and services for Gifted and Talented students. In order for a student to be identified as Gifted and Talented (GT) in Humble ISD, data from several quantitative and qualitative criteria are collected over a four-week period to identify students who exhibit potential and/or perform at levels significantly beyond the norm in areas of superior cognitive ability and/or specific academic achievement.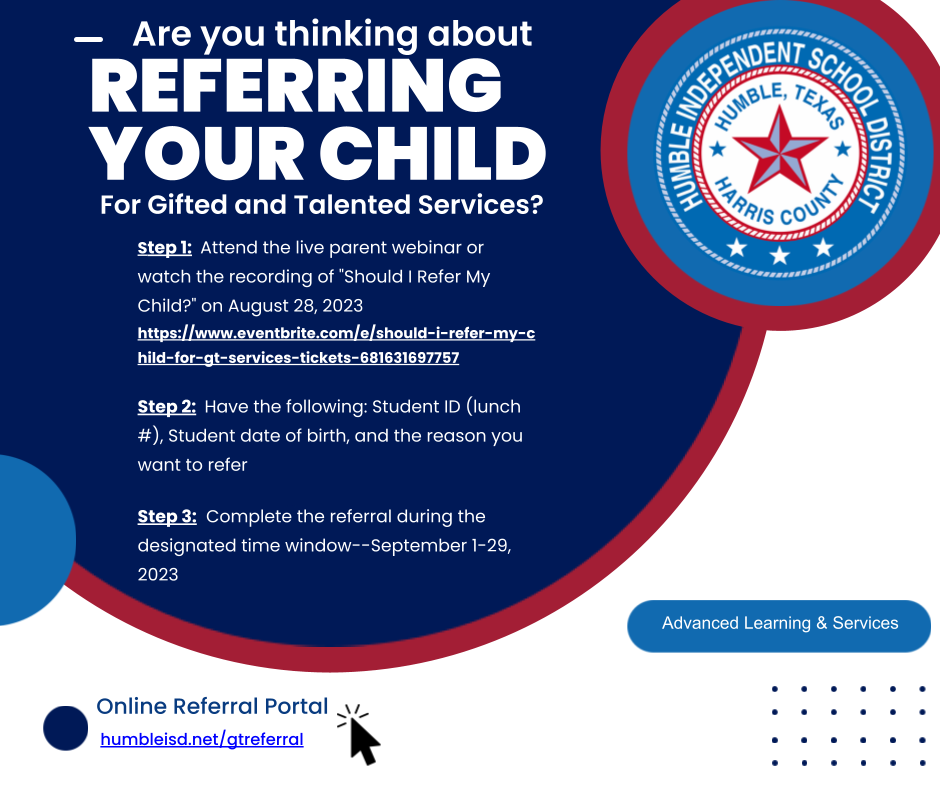 Attend the live parent webinar or watch the recording of "Should I Refer My Child?" on August 28, 2023.


Have the following:

Student ID (lunch number)

Student Date of Birth

Reason for Referral


Complete the referral during the designated window - September 1-29.
Elementary G/T Teacher Contacts
Elementary Campus

ELT

Principal/Asst. Principal

Atascocita Springs

Cheryl Fennell

Autumn Creek

Lisa Newcomb

Bear Branch

Sloan Simmons

Centennial

Michael Bushnell

Deerwood

Macaire McDonough Davies

Eagle Springs

April Maldonado

Elm Grove

Cassie Pfeifer

Fall Creek

Jamie Tallent

Foster

Brandy Heckman

Greentree

Denise Rodriguez

Groves

Angela Bland

Hidden Hollow

Natalie Wilkes

Humble

Veronica Hernandez

Jack M. Fields

Melissa Christensen

Lakeland

Lucy Anderson

Lakeshore

Richarria Benton

Maplebrook

Tiffany Moyar

North Bend

Christina Morris

Oak Forest

Corinna Ferrier

Oaks

Kelle Banda
Angelia Courtney (Virtual)

Kerri Smith

Park Lakes

Claudia Thomas

Pine Forest

Wendy Anaya

Ridge Creek

Andrenetta Scott

River Pines

Rachel Dunn

Shadow Forest

Lisa Lackey

Summerwood

Dawnielle Shrader

Timbers

Matthew Griffin

Whispering Pines

Celeste Myers

Willow Creek

Alicia Pearce

Woodland Hills

Cindy Barker
Myths about Gifted Students
These and other myths prevent our country from appropriately educating millions of advanced students. NAGC compiled a list of the most prevalent myths in gifted education with evidence rebutting each of them. This list was developed from a longer list of myths explored in a special of Gifted Child Quarterly (GCQ) in the Fall of 2009. NAGC Members can read the full issue of GCQ via the SAGE website
Helping Your Gifted Child Succeed!
Each child has strengths in certain areas, whether in math; language arts; physical, natural, and social sciences; music; visual and performing arts; leadership; athletics; philanthropy; or some other field. To help bright children discover what they do best, we need to help them explore their interests and abilities.
¡Ayude a su hijo dotado a tener éxito!
Cada niño tiene capacidades en ciertas áreas, ya sea en las matemáticas, lengua y literatura, ciencias formales, naturales y sociales, música, artes visuales y escénicas, liderazgo, atletismo, filantropía o algún otro campo. Para ayudar a los niños dotados a descubrir sus talentos excepcionales, hay que explorar sus intereses y habilidades.
Supporting Your Gifted Child During COVID-19
As COVID-19 forces us to face new norms like social distancing, remote learning, and shelter-inplace orders, gifted children may exhibit increased anxiety, sadness, intense feelings, and out-of-theordinary behavior.
Cómo apoyar a tu hijo/a con altas capacidades durante el COVID-19
El COVID-19 nos obliga a adaptarnos a nuevas normas como el distanciamiento social, la educación a distancia y el encierro. Ante esto, los/as niños/as y adolescentes superdotados pueden experimentar un aumento de ansiedad, tristeza, emociones intensas y comportamientos fuera de lo común.